Lets face it- we witnessed some magic last night in the Wold Cup playoffs. France overcame a 2-0 first leg deficit to win 3-2 on aggregate while Portugal gunned down Sweden in their own backyard to qualify for the tournament proper in Samba-land. All eyes were on three of the best footballers on the planet- Frank Ribery, Zlatan Ibrahimovic and Cristiano Ronaldo- and none of them disappointed.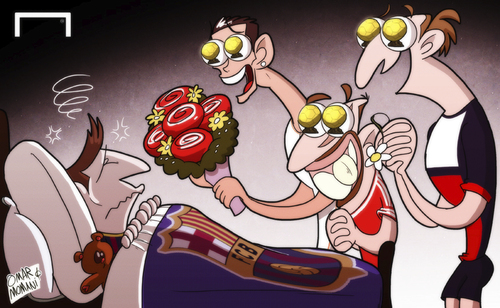 Ribery put in a good performance for an inspired French side which overcame 10-man Ukraine to book their place in the finals. Ibra scored both of Sweden's goals against Portugal last night, and for a few minutes, it looked as if the Swede would be able to power them to Brazil, but then Ronaldo happened. His second-half hat-trick sunk the Swedish hopes.
What followed seemed like a joke from football's governing body; FIFA confirmed that the voting procedure for the award has been extended until 29 November – the previous deadline had passed last week – and there is also now the option to revise your decision.
Shame it's taken Messi being injured for people to appreciate Ronaldo's genius. Would be daylight Ribery if he didn't win Ballon d'Or now
— Jonathan Stevenson (@Stevo_football) November 19, 2013
"Due to a low number of responses from coaches and captains of the national teams as well as media representatives and in order to ensure a representative number of votes for the FIFA Ballon d'Or, the FIFA's Women's Player of the Year, the FIFA Coach of the Year and the FIFA's Women's Coach of the Year FIFA and France Football extended the deadline for the voting until 29 November 2013," said a FIFA spokesperson.
While the decision to re-open the ballot, which initially closed on November 15, prior to last night's dramatic conclusion of the World Cup play-offs, is being made as a result of "a low response from members of all three voting categories", privately FIFA concede it was a mistake to close nominations before such a pivotal round of fixtures.


It's expected that Ronaldo will now steal a new portion of votes following his match-winning hat-trick , with France and Bayern Munich playmaker Franck Ribery the man to miss out. The Real Madrid forward was always one of the favourites to win the award, ahead of four-time winner Messi, while fellow contender Ribery was impressive, but didn't score a hat-trick.
Had the voting for the Ballon d'Or been closed last Friday, it
would almost certainly have resulted in a victory for Ribery
, which would hardly have been an injustice, given that the Frenchman was one of the shinier lights of a team that won the Bundesliga, the German Cup and the Champions League.
Fifa president Sepp Blatter, who infamously mocked Ronaldo's style in an interview with Oxford student, paid tribute to the 28-year-old Ronaldo's majestic performance against the Swede's.
It had been reported the Real Madrid forward was not even going to attend the ceremony, which will be held in Zurich on 13 January 2014, due to his fractured relationship with Blatter, but this latest development will go a long way in both improving matters, and Ronaldo's chances of winning.
The 23-man shortlist for the Ballon d'Or will be whittled down to just three candidates on December 9, before the winner is announced at the turn of the new year in Zurich. It has been largely predicted that Ronaldo, Ribery and Lionel Messi will make up the top three, but there has been much debate about who will finally walk away with the golden ball.
Unfortunately for Ribery, he now stands little chance of winning the award because FIFA, in their wisdom, have reopened the polls and invited the electorate to cast their vote again, an announcement made, funnily enough, shortly after Ronaldo stood under the floodlights with his hands aloft, surrounded by the wreckage of the Swedish national team. Now, let's be clear. Ronaldo is not simply one of the greatest footballers of his generation, he is one of the greatest footballers of any generation. It is only because of Lionel Messi, that he is rarely recognized as such.
Goals Scored Since January 2013: Cristiano Ronaldo - 66 Liverpool - 61 Arsenal - 58 Man City - 56 Chelsea - 54 Man United - 54 Spurs - 39 — Football Jokes (@Footy_Jokes) November 19, 2013
If the Ballon d'Or should go to the man who made the greatest personal impact in the entirety of 2013 then there's no doubt that Ronaldo should be a major contender, though poor Ribery, his arms laden with silverware, would like to stress that Ronaldo didn't actually win anything this year.
Ronaldo might deserve to win the Ballon d'Or, he might not. In a year when European football was dominated by a truly great German team, the idea of an individual award is silly anyway. But changing the rules so late in the process just so that the boss looks good is ridiculous. Once again, FIFA are a laughing stock.