The comparison of cricketers to students is trending on social media at the moment. It brings to mind the question, what if the crickets were footballers. So, I have tried to find similarities and compare players of the two very different games. Hope you enjoy it....
Sachin Tendulkar & Ryan Giggs
The grand old men of their respective sports, the both continue to serve their teams. Despite their many years of service, they are still immensely popular among the fans who literally worship them. Apart from Giggs' indiscretion with his sister-in-law, he has a completely unblemished image and the same goes for the God of Indian Cricket. Both of them have been role models on the field of play, Sachin for the thousands of runs he has scored, Giggs for his performances on the pitch and great discipline (not a single red card in his entire professional career). They have won it all.
VVS Laxman & Paul Scholes
Both of them had fantastic technical ability and a certain fluency and elegance to their game. Be it Laxman's wristy flicks or Scholes' wonderful passing vision, they both wowed the fans and won over numerous hearts. The one criticism of Scholes has been that despite all these years in the game, he never quite learnt how to tackle, and similarly, VVS has always been billed as a slow fielder. Quiet and not seeking media attention, both of them have been overshadowed by their more media friendly teammates.
Rahul Dravid & Xavi Hernandez
Both have the ability to control the game and are almost always there when the team needs them. Although they aren't spectacular, the team is built around them due to their effectiveness. Both of them have fantastic technical ability and a sound temperament, and have rescued their respective teams on numerous occasions.
Shane Warne & Diego Maradona
Both are legends in their own right. Controversial characters off the field and absolute geniuses on it, both of these players have singlehandedly dragged their team to victory on numerous occasions. Both of them have been involved in drug related controversies and have been banned from World Cups. Be it Warne's variety of leg spinners, googlies and flippers or Maradona's dribbles and silky footballing skills, they have been a treat to watch on their day.
Saeed Ajmal & Dimitar Berbatov
While both ooze class and have an extremely high skill level, they seem to do everything slowly in a lethargic manner. The cheeky smile upon bamboozling the opposition is common to both men as is the elegance and passion when they perform. A fiery personality does them no harm whatsoever.
Kevin Pietersen & Wayne Rooney
Perfect combination these two- brash, arrogant and loud but absolute media and sports superstars. The two of them are fantastic talents and their all round game is superb. Both have performed admirably for their teams and are fan favorites even though they may have fallen out with their managers/boards.
Viv Richards & Pele
Both of these legends played an attractive brand of their sports and had interesting personalities off the field as well. Hugely successful on the field, they have led a relatively quiet life off it and appear in the media only occasionally.
Adam Gilchrist & Oliver Kahn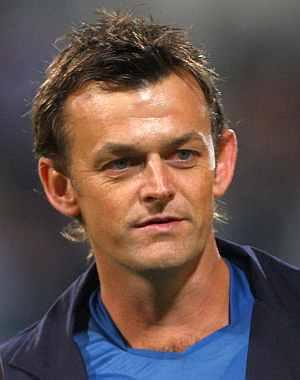 Both legendary keepers have left their mark on the modern game, and have singlehandedly won numerous matches for their respective teams. Capable of destroying the attacks of their opponents, they have dashed the hopes of their foes time and again.
Shoaib Akhtar & Ronaldinho
Instantly recognizable players, they were able to draw the crowds in with their flashy brilliance. There were periods of discontent with authorities and hints towards a bad attitude. They were on top of their sports until they choose night clubs over sport. Both tried to make comebacks, making a late flourish nearing the end of their careers where they regained the respect of everyone and reminded the world why we fell in love with them in the first place.
Imran Kahn & Johan Cruyff
Both were the finest proponents of all-round skills in their respective sports. Critical components of their respective line-ups, they could contribute in all aspects and led their teams to numerous victories.
Muttiah Muralitharan & Zinedine Zidane
The finest talents of the modern game, they have broken records all rounds and have almost singlehandedly won their respective sides the World Cup. Both of them failed to win the Cup in their second attempts and had to settle for second best, but they left an indelible mark on their respective sports.
Ishant Sharma & Andy Carroll
Both of them are one-season wonders who have since vanished from the game and can be quite anonymous during their time on the pitch. Both of them have earned big money moves to teams following their good performances and have since failed to live up to expectations.
While I may have missed out many of the other quite likely pairs, feel free to mention them in the comments, along with the reason why you think that they are so similar.