Real Madrid's first signing of the Carlo Ancelotti era is Malaga's attacking midfielder Isco, for a figure reported to be around €30 million. Having recently been on duty with the successful Spanish under-21 side at the European Championships, the whole continent has awoken to the talents of the creative player over the past 12 months.
After a season of unrest and playing catch up in La Liga, Real Madrid will see the signing as symbolic of the new regime. They will once again be filled with optimism that they can become the dominant power domestically and, given time, finally reclaim their European crown.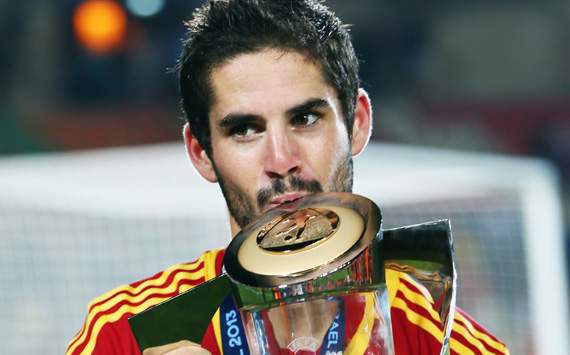 Isco will offer
Ancelotti a number of tactical options
, with the Italian boss promising to bring entertainment next season, "We want to play offensive and spectacular football. We're going to work hard to play football that makes the fans happy."
Ancelotti has used a number of different systems throughout his career as coach, including 4-2-2-2 at Paris Saint-Germain, a 4-4-2 at Chelsea, 4-3-2-1 at AC Milan and even a three-man defense at Juventus. More than a favored formation, though, Ancelotti adapts adeptly to his surroundings and the players at his disposal like few other coaches and the Italian seems unlikely to alter Madrid's 4-2-3-1.
In the long term, he may have other ideas, but Madrid's squad is clearly conditioned to play with the system preferred by his predecessor, Jose Mourinho. Ancelotti will realize that and although he will introduce a number of tactical variants, the new Real boss is set to stick with 4-2-3-1 - at least to begin with.
The former Malaga man is set to dispute the playmaker position with Mesut Ozil as Kaka, so successful under Ancelotti at AC Milan, seems surplus to requirements (I'll cover a comparative analysis of the trio's performances last season later this week). Isco could also start as an attacking midfielder or even on the right with Bale, who is Madrid's prime target this summer, inside. And if the Welshman does not arrive this summer, both Isco and Ozil should start in the Italian's side next term.
Alternatively, Ancelotti might look to abandon that shape and play a similar asymmetric 4-2-2-2 to his PSG side; two holding midfielders, Ozil and Isco in the second line and Ronaldo loosely up front with a striker of the manager's choosing would initially seem to serve.
The atttacker, who as a 17-year-old described himself as an 'anti-madridista', will win over fans quickly with his technique, his dribbling, his vision and his goals. From the fourth tier of Spanish football in 2010-11 to a starring role in La Liga the following season and a stunning Champions League debut the next, incredible Isco looks set to be the next Spanish superstar and Madrid's golden boy.

There will be several more incomings and outgoings from Real Madrid over the next two months, no doubt, as Ancelotti finds out which players will be brought in for him—and which are surplus to requirements.
Isco, however, will likely be a cornerstone of this next Real side being built, possibly in several roles, potentially off the bench as a game-controller or -changer for a period. But very much with one eye on becoming the next leader of the Madrid side searching to recapture La Liga and finally end the long, long wait for La Decima—the Holy Grail—the 10th Champions League title.